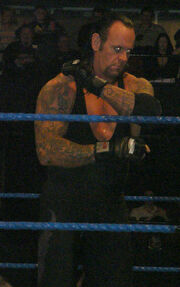 Mark Cataway better known as The Undertaker was born in Houston, Texas in 1965. He is 21-0 at Wrestlemania. His make-believe hometown is Death Valley.
Undertaker is known as the phenom. He defeated people like CM Punk, Triple H and Shawn Micheals. Undertaker joined the WWE in 1990.
He is a former World Heaveyweight Champion too! Undertakers ring annoucer, Paul Bearer died in March 2013. Undertaker's brother is Kane. So, There team is called, The Brothers of Destruction!